Foreign Minister Shah Mahmood Qureshi has said that Pakistan's expectations of the United States are 'very solid reasons'.
A meeting of the International Organization for Action Task Force (FATF) is being held in China on Tuesday, jointly chaired by China and India. The meeting will review the steps taken by Pakistan to prevent money laundering and terrorist financing.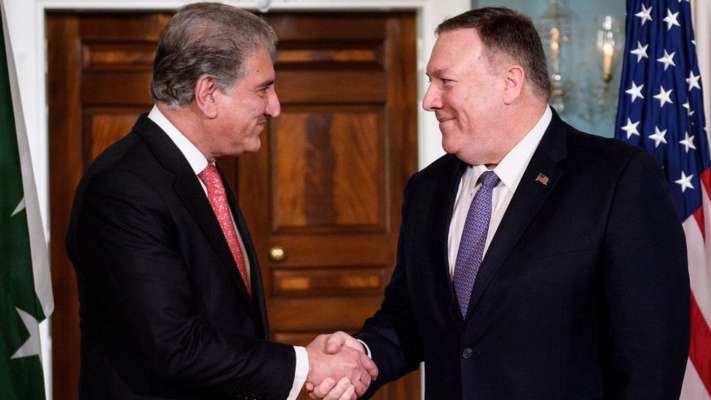 The Pakistani Foreign Minister recently met with US Secretary of State Mike Pompeo, hoping that the United States would play a facilitating role in facilitating Pakistan during this meeting.
Why does Pakistan have expectations from Washington?
The FATF has 35 members, including the United States as well as the United Kingdom, China and India. So why is Pakistan hoping to help the United States in this?
Pakistan's Foreign Minister Shah Mahmood Qureshi reiterated his position while talking to the BBC that he expects the US representative to facilitate Pakistan for this meeting.
Also read
FATF: Sword of defamation hanging over Pakistan
Terming his recent meeting with US Secretary of State Mike Pompeo very encouraging, Foreign Minister Shah Mehmood Qureshi said there were "very concrete reasons" for those expectations. According to him, "Pakistan has taken remarkable steps in the last ten months that were not possible in the last ten years."
Shah Mehmood Qureshi called the Finance Ministry's performance unforgettable in ensuring such measures.
Getty Images Shah Mahmood Qureshi
Speaking on Money Laundering and Terror Financing, he said, "Our initiatives are so appropriate and so concrete that they need to be appreciated. However, this is a technical issue. If there is a mistake, it will be corrected as well. The important thing is that Pakistan has now made its direction. "
In view of these decisive steps, the Pakistani Foreign Minister said that President Donald Trump had also stated that he considered Pakistan's actions against terrorism encouraging.
What can the United States do for Pakistan?
Like the International Monetary Fund, FATF is an international organization that makes decisions freely. Experts believe that US cooperation will not be enough to overcome Pakistan. Pakistan will have to take irreversible steps to satisfy all members of the meeting.
US political and security analyst Michael Kugliman told the BBC that Pakistan's efforts to get out of the FATF's 'gray list' could not succeed with US cooperation alone.
They think this decision has to be made by 'decision makers' from other countries involved in the FATF.
When the question was asked by the Foreign Minister of Pakistan about how much he hoped for support from other countries, Shah Mehmood Qureshi said, "China has given us guidance and has shown us how we can improve these measures." Can proceed in style. (After that) we have tried sincerely. '
Shah Mehmood Qureshi says he has also informed other countries about the significant progress made in the FATF targets. They are expecting a 'merit' this time from China as well as India.
BBC Mohammad Aamir Rana
Security affairs expert Aamir Rana thinks the US has a limited impact on the FATF, but in order to overcome the difficulties, Pakistan will have to rectify its shortcomings and shortcomings.
They think that if China bailout Pakistan in the last meeting, then it will be under pressure to not support Pakistan every time on which Pakistan is now trying to persuade the United States.
Michael Kugliman believes that the US is still hard on Pakistan in relation to the FATF and will not be willing to exclude Pakistan from the list unless Pakistan takes steps to back it up. It is not possible to move away.
It should be remembered that FATF had asked Pakistan to implement a ten-point action plan by January 2019. According to this ten-point action plan, Pakistan had to make clear how successful it was in money laundering, terrorist financing and coordination among institutions.
The organization says it will continue to support Pakistan in this regard. Pakistan wants its name removed from the organization's 'gray list'.
Aamir Rana told the BBC that India is also hosting a FATF meeting in China on January 21, which could increase the difficulties for Pakistan.
In this regard, Foreign Minister Shah Mehmood Qureshi said that India had presided over such meetings before. Let me see the matter on merit, India's improvement is in a stable Pakistan.
FATF Financial Action Task Force (FATF) is an intergovernmental organization established in 1989
What is FATF?
The Financial Action Task Force (FATF) is an international organization established in 1989. The main objective of this organization is to protect the international financial system from terrorism, blackmail and other threats, and legal, disciplinary and practical steps should be taken for this purpose.
It has 35 members, including the US, UK, China and India, although Pakistan is not a member of the organization.
We are the owner of this company